About Us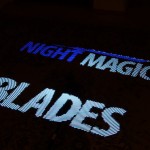 Night Magic Blades s.r.o. is innovative research & development company focused primary on special hardware & software projects. We are proud to announce our first innovative product – LED based rotor blades that are able to display color animations, text and pictures.
We can serve you in following areas :
Special ( rotating ) LED displays design & manufacturing
Special hardware and software design
Company was set-up in 2012 by Mr.Milos Benadik, experienced hardware specialist and heli pilot, who leads small team of IT and technology experts.